This article will walk you through setting up a Multi-Vet per calendar on OpenVPMS
Administrator access is required to perform these tasks.
Step 1 - Adding employees(clinicians) for online booking in OpenVPMS
Navigate to Administration -> Users
Double click on the preferred user and tick on the checkbox labelled 'Active' and 'Online Booking', and click on 'OK'.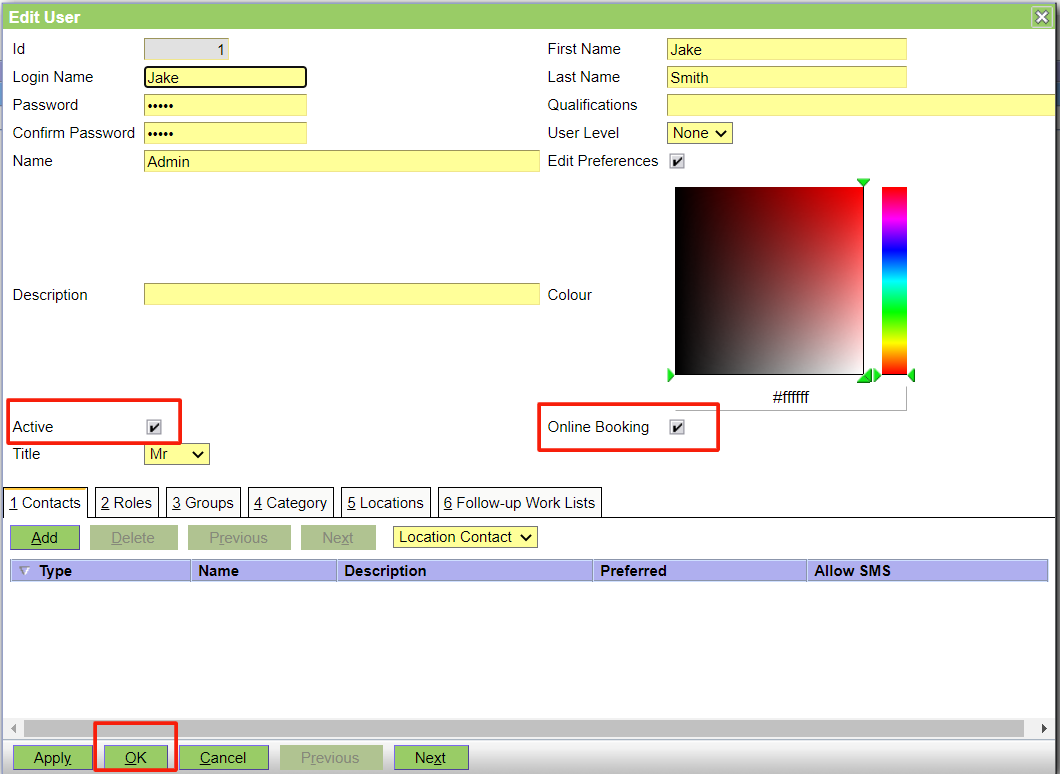 Important: The above steps should be continued for all the clinicians that you wish to enable online booking.
Step 2 - Creating the Roster Area
Navigate to Administration -> Organisation. Select 'Roster Area' from the drop-down labelled "Type"
To create the Roster area, Click on 'New' button and click on 'OK'.
Type the 'Name' of the Roster Area ( i.e - Consultation, Nurse, etc..)
Select the relevant 'Location' for the roster area.
Click on 'Add' to include the relevant Schedules to each Roster Area. Click 'OK' to save

Step 3 - Adding a Code to OpenVPMS
By navigating to WorkFlow >Rostering, the created Roster Areas in (Step 2) will be visible. Click on the Tab 'Areas'.


Select the cell to which you want to add the users (employees) and double click on it. The 'New Shift' Window appears.
Enter the 'Start Time' and 'End Time'. Click on the binoculars button against the 'Employee' and 'Area' text box to search the employee and roster area respectively.






Change the Start & End times of the shift as required. Press 'OK' to save shift.
You will be back to the Workflow > Rostering window and the applied timings will be displayed.




Navigate to Workflow > Scheduling > Select a date that you recently added an employee shift. Press the ''+'' mark next to the Schedule name and to view the Employees Rostered on for that day.




Note: Once the above configurations are done, please inform the Vetstoria support team (i.e. support@vetstoria.com) of the employee names that were configured in the OpenVPMS instance.
Any questions or queries, or if you need further help, please use the Contact Support form linked at the top of this page, or the chat function in the corner of your screen to contact our support teams.