This article will help you to understand what a template is and how it impacts the clinic's scheduling hours.
Cornerstone templates can be used either to reserve slots or to define the slots that should be available in the OBT.
Note:
Difference between Templates and normal way of Blocking a slot.
When we need to block a slot in the normal method, we right-click on that particular slot and we choose to block [One Off method]. When it comes to templates, we can pre-define slot(s) and use it on the calendar whenever required.
How does Templates look like?
Calendar without Templates

Calendar with Templates
Templates will appear with the colour that we define when creating.

How to setup Templates?
Login to your Cornerstone PMS system.
Click on Controls > Appointment Scheduler > Template Designs from the menu on the top.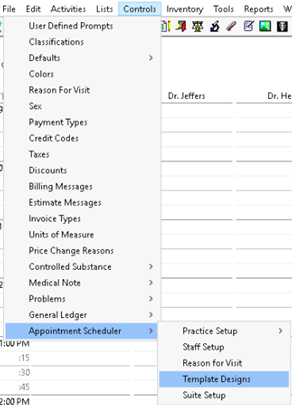 3. The Template Designs window will open up. Now click on the "New" button.
4. Now double click on the time slot of the particular clinician you want to add the reserve slots or the block-off.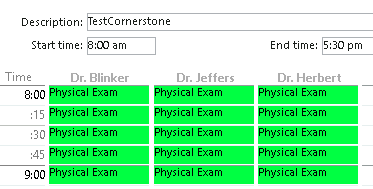 5. Template Detail window will open up. Select the "Reason for visit" from the drop-down and make sure to enter the End time in the box labeled "End at". Click "OK".

6. You are back to the Template Designer Window and the reserved slots are now on the screen. Make sure to add the "Description". Click "OK".
7. After configuring templates, you go into the diary and select the template you need to use.
8. Once the clinic has completed the above steps and if you wish to exclude the respective slots that are defined via templates from online booking, the Victoria Support Team will have to perform a slight configuration change in order to exclude these slots. Please inform the team of this via support@vetstoria.com.
9. In the event that your requirement is not to exclude these relevant slots that are designed via templates, but to ensure that these are indeed the slots that should be available in the online booking tool, please add block-offs for the particular slots that are outside of these template designs, meaning the ones that you don't intend to have in the online booking tool.
10. The below image demonstrates how the online appointments booked on top of a template will be displayed in your Cornerstone System.

11. If your concern is that an appointment has been booked on top of a template and the templates in your clinic are designed to exclude the specific slots from online booking, this may mean that the reserved slots (designed via templates) are not excluded from the Vetstoria end. Please send an email to support@vetstoria.com if this is the case.
Any questions or queries, or if you need further help, please use the Contact Support form linked at the top of this page, or the chat function in the corner of your screen to contact our support teams.