This article will walk you through the process of integrating Vetstoria Online Booking on your Google My Business Page
You will need two things to complete this:
Google My Business Account
Vetstoria Booking link for Google My Business
How to set up your Google My Business Account
First, you will need to ensure you have a Google My Business account. More information on how to setup Google My Business Account can be found here: How to Create a Google My Business Profile
Getting your Vetstoria Booking Link for Google My Business
Once logged into you Vetstoria Scheduling tool, navigate to:
Settings > Google My Business
You should see an URL similar to the one shown below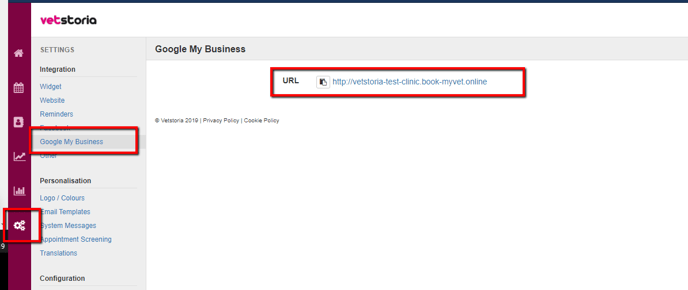 NOTE: The URL is unique to your account, so make sure you get yours from your account.
If you don't have this... read on below.
How Do I request my Google My Business booking link?
If you are presented with the following screen in the settings under Google My Business, you will have to contact "support@vetstoria.com" in order to request this link.

Once you have your link, you can continue to the next step.
How to add your Booking Link to Google My Business
Once you receive the link from our support team, please go through the following steps:
1. Login to your Google My Business Account.
2. On the left-hand menu, click 'Info'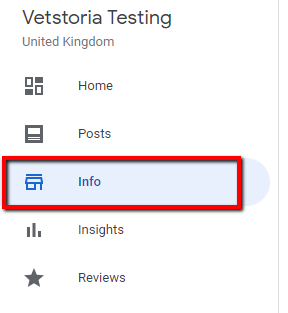 3. Locate the Website Section and click anywhere in this area to edit

4. Enter the Booking Link URL from your Vetstoria Portal.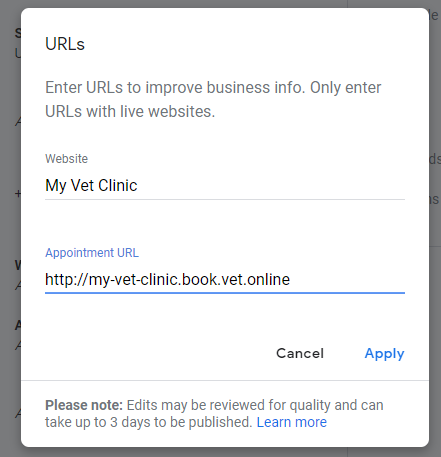 Top Tip: You can quickly copy this Appointment URL link from Vetstoria by clicking the 'Copy' button next to any of URLs in Vetstoria shown below:
6. Click 'Apply' and you are done!
Any questions or queries, or if you need further help, please use the Contact Support form linked at the top of this page, or the chat function in the corner of your screen to contact our support teams.