LinkTree gives you a 'landing page' for your Instagram account so you can both link your followers to either your website or to book an appointment. This article will help you set this up.
What is Linktree
Linktree allows you to create a personalised and easily customisable page, that houses all the important links you want to share with your followers on social platforms such as Instagram, Facebook, Youtube, Twitter and LinkedIn.
Instagram gives us one URL field on your account which is clickable by a follower. You then have to make a decision to link to your website, your website or direct to Vetstoria, meaning a follower who wants to book, may have to make multiple jumps to get to your booking page. So what can we do?!
Linktree is a free solution to create as many links as you like on an easy-to-use page that you can add to your Instagram profile.
They click the link and are presented the links you set up as shown below which they can click on to continue their journey as they want to.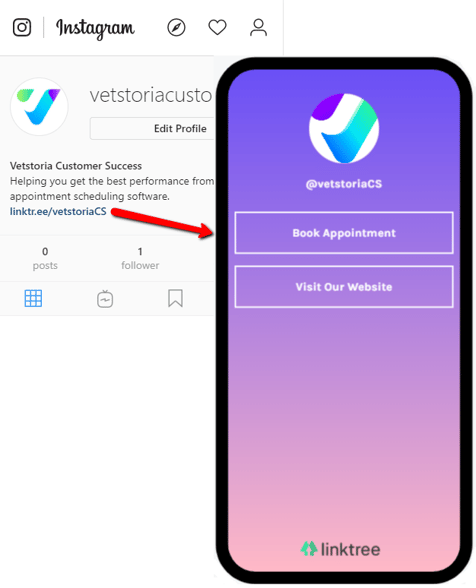 How to set it up
This is really easy to do...
Visit https://linktr.ee/
Click 'Sign Up Free' to create your account

Recommend using 'sign up with Instagram' so it keeps you accounts linked.

Add your links

Add your unique booking link created in Vetstoria (so it shows in your analytics)
How to create a trackable booking link for Instagram
Add your Website URL
Add any other relevant pages, i.e. your 'Blog/Article' page or 'Contact Us' page.

Copy the Linktree URL into your Instagram website field.
Top Tips:
Create your account with the same @username as your Instagram account so you carry this through.
If a post on Instagram refers to an article on your website, or somewhere else, say they can find the link in your 'Linktree'. You'll be able to see how many times this is clicked in your Linktree dashboard, and helps your following!