This article will walk you through setting up a Multi-Vet per calendar on VisionVPM
Top Tip: Prior to setting this feature up on Vision, we recommend that you create an appointment type like Vet or Dr on Duty.
This will help differentiate it colourwise from your other appointment types on Vision.
(If you're unsure how to do this please contact Vision support or refer your Vision User Manual)
Adding a Code to Vision
Right-click on the slot before the first available appointment and select New Appointment.

Select the appointment type which you initially created under Type.
Add the respective vet's code under Notes.
Once this is done click on Save and Close to save your changes.

CheckPoint: Ensure that the $$code is in the 'Notes' field and not the 'Reason' field.


Example Scenario
Consider the following example:
There are two calendars (Consult 1 and Consult 2) which are shared by 3 vets.
This can be set up as follows:
| | | |
| --- | --- | --- |
| Vet Name - (Working hours) | Clipboard | Code to be added |
| Jack Thompson (8.30am -10.30am) | Consult 1 | $$John Thompson |
| Jackie Brown (11.00am - 5.00pm) | Consult 1 | $$Jackie Brown |
| Jennifer Simons (9.00am - 5.00pm) | Consult 2 | $$Jennifer Simmons |
The print screen below shows how this setup would appear on VisionVPM.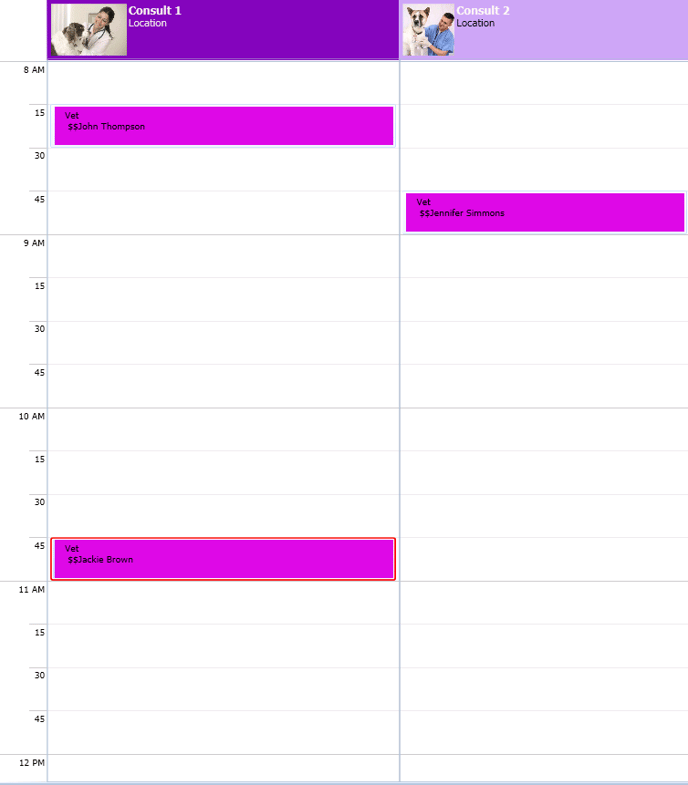 Note: When a vet's shift ends, please ensure that you block this off on Vision so that this is reflected on your Online Booking Tool.
Copy/Cut Pasting a Code entry on Vision to other days
Vision allows you to Copy/Cut an appointment entry from one slot to another instead of having to create it every time.
This should be used, and not the recurrence feature which is explained below as to why.
Right-click on the slot where a code has been added and right-click on it. Select Copy

Go to the slot which you want to paste the copied code and right-click on it. Select Paste

Repeat this to as many dates, times and rooms that you need.
Warning:
Due to integration limitations, if the appointment note is set up as a recurrence, Vetstoria will not be able to read these from Vision and these entries will not show up in the online booking tool.
What does a recurrence look like?
Code added without Recurrence
Code added as a Recurrence
Setting Up Multi-Clinicians in Vetstoria
Once the above is all set up, you can enable, or adjust the clinicians in your Vetstoria Scheduling tool. For more information, see this article: Configuring Multi-Vet Clinicians in Vetstoria