This article will walk you through the process of setting up the Rostering function for your Vetstoria account.
On your Vetstoria account go to Settings > Clinicians
The 'Allow multiple clinicians per calendar' is switched on
Switch to the 'Clinicians' tab
Initially, you would have to assign the clinicians under the specific branch.
Next, click on '+Add Clinician' button to add the relevant clinician on to Vetstoria and Save the changes.

5. Select the "Clinician Schedule" tab.

5. Select the 'Week' button and scroll down to check if the clinician's name appears.

6. Switch to the 'Clinicians' tab
7. Enter the name of the vet or doctor as it appears on the PMS calendar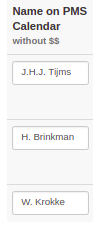 7. Enter the name of the vet or doctor that matches exactly with the name under the Clinician Schedule.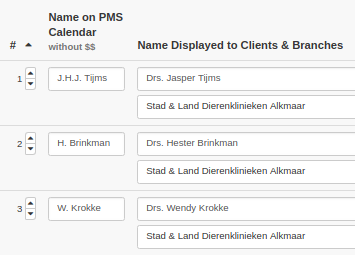 8. The amended name will be reflected under the Clinician Schedule that you have entered, and the "Unknown Clinician" word would not be present on this specific clinician calendar.

NOTE:- Please make sure that the name on the PMS perfectly matches with the initial name on the specific Clinician name. Make sure all spaces, full stops, commas are exactly as it appears (This is also case sensitive).
How do I set this up on Animana?
Please contact the Animana support team will be able to help you further with this task as they can access your Animana system.
Any questions or queries, or if you need further help, please use the Contact Support form linked at the top of this page, or the chat function in the corner of your screen to contact our support teams.