This article will provide you in detail the criteria you need to keep in mind when testing your booking tool.
There are certain criteria to keep in mind when you attempt testing to meet a successful online booking.
In an instance where the identical owner and pet details (i.e. email address, phone number, and pet name) are used, no more than 1 identical booking can be scheduled in a 30-second time frame.
In an event where testing is conducted simultaneously with other colleagues using identical owner and pet details, only a single appointment will be bypassed to AVIMark while the others fail in a 30-second time frame. However, it will not be the case if the details used are dissimilar.
On an occasion to meet these criteria, the following message will be prompted upon confirming an appointment. In such occasions, you will have to wait out a period of 5-minutes before attempting to reconfirm the same appointment.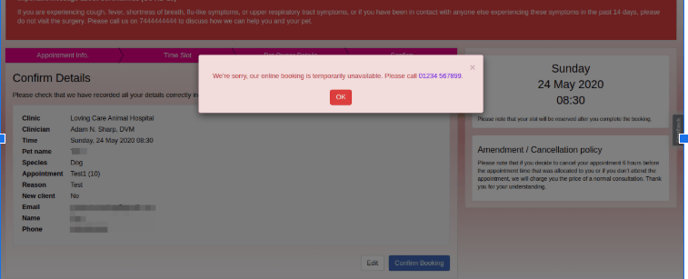 The reason behind encountering the prompt message is due to the activation of "Throttling". Throttling is a mechanism to prevent 'spamming' a hospital - if a hospital has too many live queries running at once, this could cause a negative performance impact on the hospital's PIMS and business operations. Once activated, a 5-minute duration will have to be allotted before running the same query again.
Nevertheless, throttling would not be a concern in the real-world when it comes to online booking as it is very rare you would come across a scenario where you find a pet owner or multiple pet owners attempting to schedule more than 1 appointment using identical details at a given time.
Any questions or queries, or if you need further help, please use the Contact Support form linked at the top of this page, or the chat function in the corner of your screen to contact our support teams.